Wrist Strap Lanyards
More Views
Almost everybody needs to carry a few things within reach. One of the best ways in which you can carry all these items and do so rather stylishly comes by way of wrist lanyards.Depending on your requirements, these things could encompass: Mobile devices,ID badges,Keys,Small items of various kinds and so on.
Free artwork design

Let us design you a 100% free artwork of your
products prior to finalising your order.

Rush service available

We offer the fastest turnaround times with
optional super rush service on most products.

Low minimum order

We offer brilliant discounts on larger quantity
orders. Ask our team for more info.
Lanyard Fittings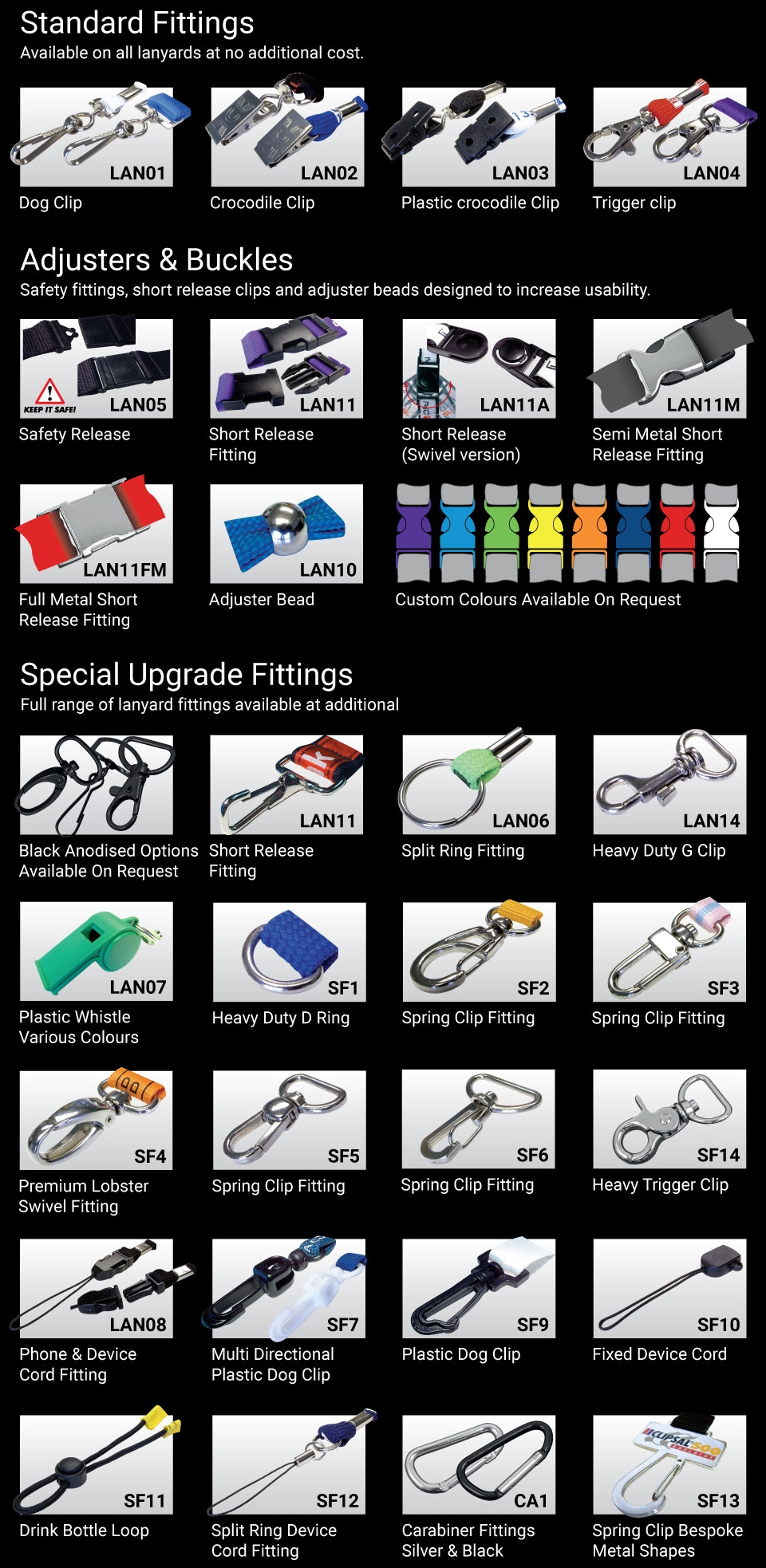 Colour Info
Product Details
As a promotional item
Smart business owners will always choose useful items to give away as promotional gifts. So instead of choosing yet another pen or any other piece of stationery, why not go for wrist straps that will be extremely useful for an individual.
Picking up the correct product
One of the easiest things that you can do when you are looking for a wrist lanyard is to go online. This will give you the option of looking at websites and manufacturers who can give you:
The most competitive prices.
Guarantees of express delivery.
A range of colours that you can choose from.
Free artwork and design services so that you get the perfectly printed product.
Convenience and marketing
It makes a lot of sense for you to go in for printed wrist straps because they are a great way to promote your brand or business organisation. Wrist strap lanyards can be customised by:
Choosing the right kind of materials.
Using heat transfer or printing for imprinting your brand message or business name.
Selecting the right kind of fittings or clips so that the individual can carry an item on the wrist lanyard very comfortably.
Putting the right information
Even though wrist lanyards may be really small, they can be used rather smartly to display all the relevant information. For instance, you could use a printed wrist lanyard to carry the name of a business organisation and contact details. A telephone number, a website or even the corporate e-mail ID can be printed rather easily on a wrist strap.
Usefulness
It is also relevant to mention that printed wrist straps are not just a promotional item. They can be used very comfortably to carry small items that an individual may need to use frequently and throughout the day as well. For instance, you could go in for a small trigger clip or even a spring clip that individual can use to carry a badge or some means of identification. This saves him or her the bother of fishing out an ID card from a pocket or even a handbag.
Request a free quote
No obligation, no strings attached. Delivered to your inbox in minutes.