Tube Polyester Lanyards
More Views
New Zealand companies are innovative in their marketing endeavors. Therefore they seek innovative security and ID solutions, one such product category that fits that descriptions is our range of Tubular polyester lanyards. There are many reasons why it makes a lot of sense to shop online for lanyards, especially when it comes to finding products that are competitively priced and well made.
Free artwork design

Let us design you a 100% free artwork of your
products prior to finalising your order.

Rush service available

We offer the fastest turnaround times with
optional super rush service on most products.

Low minimum order

We offer brilliant discounts on larger quantity
orders. Ask our team for more info.
Lanyard Fittings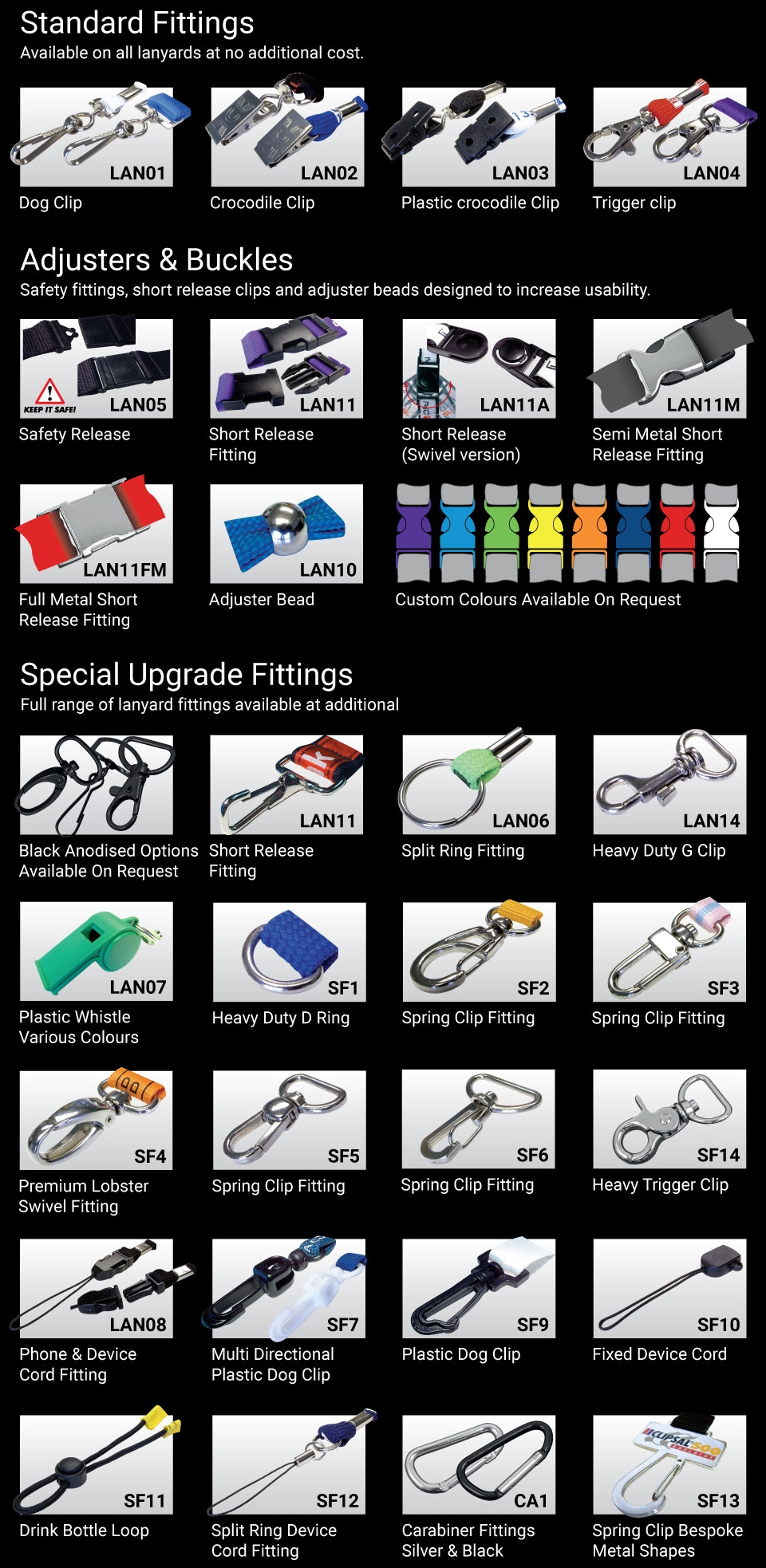 Colour Info
Product Details
Business organisations love an innovative product that is
• Versatile.
• Durable.
• Well-designed.
Choosing the right Lanyard Cords seller
Granted that there are quite a few sellers out there when it comes to lanyards but it would help for you to browse through multiple sites and find one that gives you more than just a lanyard. These value added services should include:
• Most competitive prices.
• The shortest delivery time.
• Guarantees on quality of printing.
• Artwork support and if it is free – then it is even better!
Choosing the right lanyard
There are quite a few options to consider when it comes to selecting the right lanyard. Of course, your decision will largely depend on the purpose for which it is to be used. Tubular Lanyards are quite a popular choice because they offer:
• Durability.
• Soft to the touch and comfortable because they have no material edge.
• Large range of colours including stock options and Pantone colours as well.
• Number of widths that you can choose – 5mm to 25mm.
• Availability of standard fittings as well.
What are tube lanyards?
These lanyards are made of loosely stitched polyester and two of the standout features of this lanyard are stretchability and cost effectiveness. In most cases they can be ready for use within 15 days. They can be customised greatly with specific printed messages that can include your logo and even business slogan. You can check out how they work out in terms of price by getting a free quote from a seller.
Choosing fittings
Lanyard Cords are of course meant to hold a large range of items. You can choose these standard fittings when you shop online for lanyards as well. Some of the options are:
• ID holders
• Badge reels
• Crocodile clips.
• Dog clips.
• Safety clips.
• Split rings and so on.

You get a lot of choice in the standard fittings as well. You can choose the colour and material for the same so that you get a lanyard that is simply perfect for your needs. More importantly perhaps, it also enhances your brand image. After all, your business needs to look good and a good-looking lanyard can help in this regard!
Request a free quote
No obligation, no strings attached. Delivered to your inbox in minutes.