Standard Woven Lanyards
More Views
Woven lanyards are not embroidered. They are actually woven from scratch with your logo pre programmed into the weave pattern, this ensures your logo is there forever! Without print to wear off they ensure that your logo is there to stay!
Woven lanyards are also excellent for hospitals and clinical use as they are washable and have no inks to wash off or wear from cleaning solutions.
Free artwork design

Let us design you a 100% free artwork of your
products prior to finalising your order.

Rush service available

We offer the fastest turnaround times with
optional super rush service on most products.

Low minimum order

We offer brilliant discounts on larger quantity
orders. Ask our team for more info.
Lanyard Fittings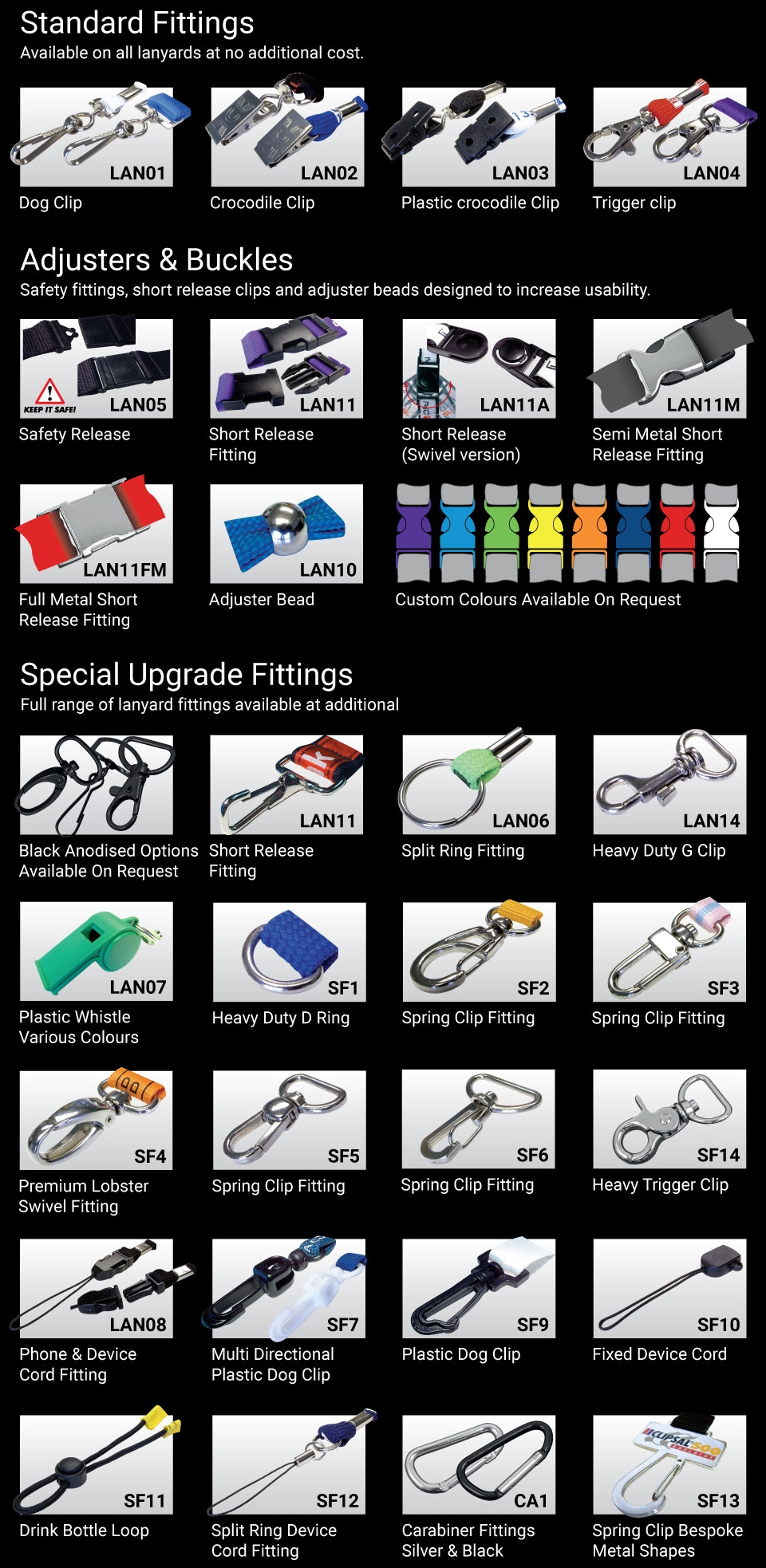 Colour Info
Product Details
It is very important for your business organisation to be associated with high-quality items and this statement holds good for promotional items – perhaps even more so! After all, the promotional items used to ensure that your brand name is:

• At the top of the mind recall for customers and partners of a business.
• Associated with good quality.
• Related to your business organisation and reputation that enjoys.

This is exactly why you should choose woven lanyards for your next event or conference and enjoy the convenience and good looks that this particular lanyard has.
How to choose the right product?
The easiest thing that you can do when it comes to choosing a woven lanyard for your business organisation is to go online. This will give you the opportunity to examine aspects such as:
• The prices of lanyards.
• The various images of woven lanyards.
• The range of standard fittings and clips that you can include in your order.
• Support services in terms of artwork design, express delivery of the order and quality of printing.
Printing is everything
It is important for you to choose a manufacturer of a lanyard who promises to use the best of processes and methods when it comes to weaving the lanyard and printing your message on the same. Precision printing will lead to an accurate display of your business name or tag line or any other message that you choose. The combination of high quality printing and well woven lanyards results in a great looking product.
Who can use it?
Simply put, almost anybody! A woven lanyard is extremely easy to maintain and offers a very crisp look that can last a lifetime. It therefore makes a lot of sense for almost any business organisation to choose such a lanyard when it comes to creating a great looking promotional product.

A woven lanyard is also the item of choice for industries and sectors such as:
• Manufacturing establishments.
• Hospitals.
• Service organisations.
• Educational establishments and so on.

All you need to do is pay attention to the choice of colours so that it reflects your business organisation accurately. Here again, you do not have to worry too much about the colours of woven lanyards because manufacturers will give you certain stock colours and a choice according to the Pantone colour chart as well. This allows plenty of flexibility and the ability to create a lanyard which is in line with your corporate colours.


Request a free quote
No obligation, no strings attached. Delivered to your inbox in minutes.