Printed Polyester Lanyards
More Views
Printed Polyester Lanyards
Printed polyester lanyards are the most widely used lanyards and in effect account for nearly 90% of all our lanyard sales. Though there are alternatives to polyester lanyards like nylon printed lanyards and dye sublimation printed lanyards, polyester lanyards retain their popularity. However, if a complex print is needed on a lanyard then it is better to opt for nylon printed lanyards and if your design has more than 5 colours then it is advisable to opt for dye sublimation printed lanyards.
Free artwork design

Let us design you a 100% free artwork of your
products prior to finalising your order.

Rush service available

We offer the fastest turnaround times with
optional super rush service on most products.

Low minimum order

We offer brilliant discounts on larger quantity
orders. Ask our team for more info.
Lanyard Fittings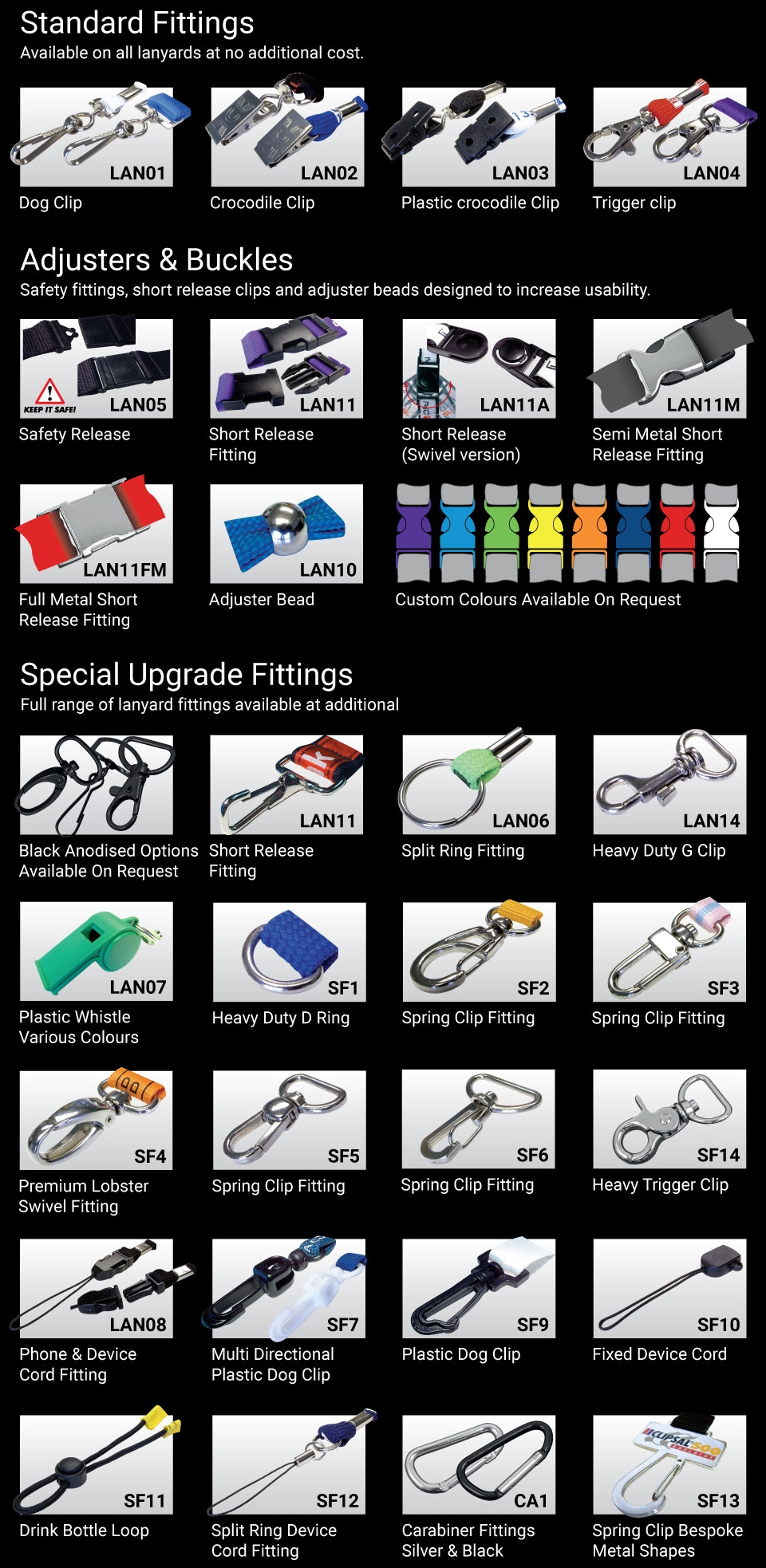 Colour Info
Product Details
The major benefits of printed polyester lanyards are:
Great looking lanyards at relatively low cost.
Perfect finish for your graphics up to 4 colours.
Long lasting and strong.
Easy to wear.
The lanyard can be printed with any number of prints.
Our lanyards are 900mm in length which is the standard for printed lanyards. However, if the length needs to be different you can contact us and discuss details.
Lanyards are the strings or rope that is used to hold important items like keys, ID cards etc. Lanyards have a lot of similarity to "Boondoggle", a plaiting and knotting craft which is still taught to kids scouts. Though lanyards were created with the intention of ensuring that the items are not lost, it has now become a tool to create brand awareness.
There are many other types of lanyards such as the ones used to secure objects in etc. However, we specialize only in lanyards that are usually 900mm in length and printed with great graphics and logos.
Nowadays there are lanyards being created with different colours to differentiate different departments in a corporation. Different colours are being used to admit access to different floors in a company. At events, lanyards are playing a great role in creating brand recognition. It also becomes easy to identify which stall a person belongs to by looking at their lanyards.
Lanyards are also used by Nintendo Wii, it is actually a wrist lanyard to keep the Wii remote from falling and breaking. Lifeguards at beaches and swimming pools use lanyards to hold whistles and items that are required to save lives.
Lanyards can have a promotional message printed on them, or you can have the name of your company, or just the logo of your company, or even have a catchy slogan. A good manufacturer will ensure that the lanyard has the necessary information that you desire on it. We usually accept minimum orders of 100 units when you need custom printed lanyards, though 500+ is usually the norm.
Our standard material is Is High quality polyester ribbon-like material ideal for silk-screening. The most versatile and popular material for producing custom lanyards. Please see below for our other printed materials
The Standard Flat poly lanyard is our most popular lanyard. it is economical to personalise and is available on speed ship 7 day delivery.
Printed Lanyards are cut to a standard length of 900mm when measured end-to-end before any finishing work is done. If you need a special length please contact us to discuss your requirements.Remember Lanyards? that bit of rope worn around the neck or wrist to carry important items. Usually to ensure the item is seen all the time and not lost or dropped. Or Maybe your thinking of "Boondoggle" The plaiting and knotting craft that originated in Europe as a kids activity during the early 1950's which I might add is still very popular in summer camps and kids scouts.
lanyards promotional items promotional items promo items
Printed Lanyards also refer to rigging straps used to secure objects aboard ships and transport vehicles.
But these are not the lanyards we are referring to today! the lanyard item I am talking about is the Printed Promo Lanyard; a flat strap made usually out of polyester or nylon and printed up with all kinds of fantastic graphics and designs aimed at displaying a corporations brand or logo.
Yes lanyards are making a comeback, with so many uses and customisation options they can be created for use in security at concerts, or to carry the keys to your Toyota!
With increased miniaturisation of electronic items, lanyards will also play an integral role in keeping these items safe from dropping, or breaking apart. Even the Nintendo Wii uses a kind of lanyard to attach to the users hand to prevent the consoles controller being flung across the room.
There are serious roles associated with Printed lanyards as well, where a company may choose not to have a logo emblazoned across a material length but rather a careful selection of colours and clips to identify staff and security personnel. Even lifeguards use Lanyards nowadays, because life guard uniforms do not incorporate pockets for a whistle or special life preserving items; lanyards automatically become a crucial accessory for lifesaving.
Printed Lanyards, wristbands and bracelets are just some of the customised items are just come items that many promotional firms will be carrying in their portfolio.
Whether you are looking to promote your company with promotional Printed Lanyards, enhance your professional image with the company logo on security identity tags, compliment your own product line with your name or message on a customised lanyard or silicone wristband, or have some fun slap bracelets to promote a sports event or awareness campaign, Lanyards are able to be customised specifications. No matter what the job may entail.
A good printed lanyard manufacturer will have the ability to supply customised printed lanyards, with your company/organisation's logo or message. Our minimum order commonly,a minimum order will apply usually around 100 units some companies may require an order of 500 units+ on customised lanyards.
Lanyards have a wide range of uses, from promotion as give-aways, to security - accessorized with various PVC badge holders, a customised lanyard with your company name or logo adds an extra layer of security.
Request a free quote
No obligation, no strings attached. Delivered to your inbox in minutes.