10mm Plain Lanyards In Stock
More Views
10mm Plain Lanyards In Stock
Colours In Stock

Free artwork design

Let us design you a 100% free artwork of your
products prior to finalising your order.

Rush service available

We offer the fastest turnaround times with
optional super rush service on most products.

Low minimum order

We offer brilliant discounts on larger quantity
orders. Ask our team for more info.
Lanyard Fittings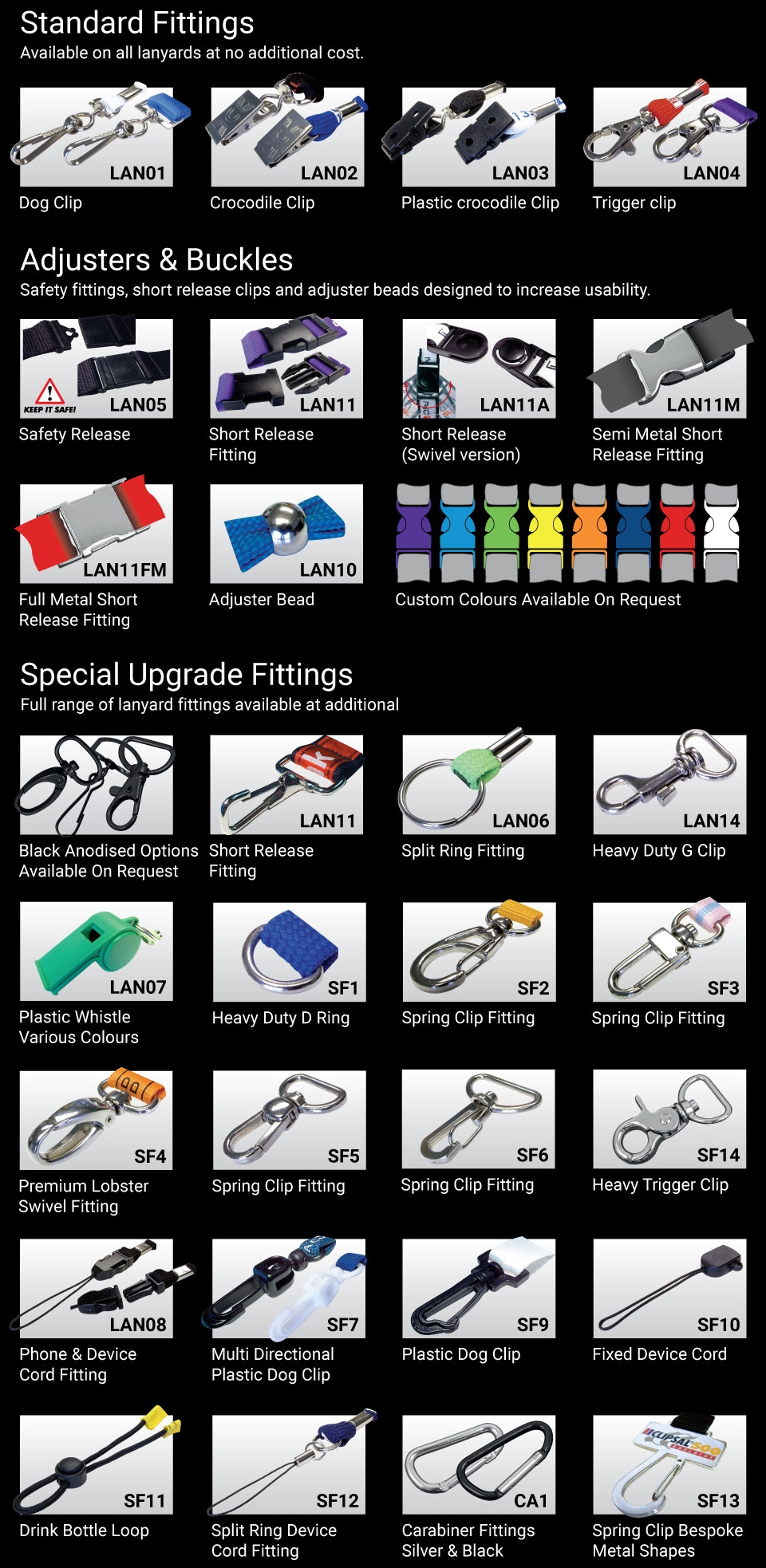 Colour Info
Product Details
Further Information
In Stock Premium Unprinted Lanyards are available overnight to most areas in New Zealand. Pantone colour matched material is available lead time is +7 days.

Check below for more information, colours and stock availability for next day lanyards.
Lanyards In Quick Time
People need lanyards for multiple purposes:

• Promotional events.
• Daily use at work to hold ID cards and other objects.
• Safety applications and so on.

These lanyards are created with specific design formats and can include a vast range of choices and additions such as:

• Colours
• Logos and corporate slogans to be printed on.
• Various fittings such as clips and clasps and
• Decisions on lengths and widths of the lanyard itself.

But not everybody wants to go through so many choices and more importantly, may be on a tight turnaround time. So if you are looking for delivery of Lanyards Overnight and cannot bide your time for customised, printed lanyards then you can pick up unprinted or plain lanyards and use them easily.
Make An Impact Regardless!
Unprinted Lanyards do not mean staid lanyards. With the choice of multiple colours and fittings, you can pick up lanyards that look distinctive for your event or conference. Perhaps the easiest thing you can do here is to visit the website of a leading seller of lanyard and choose lanyards that closely resemble your corporate colours. If you are an individual looking for express lanyards, then simply choose your Favouritee colour and wait for the consignment to land at your doorstep.
What More Can You Expect?
Lanyard sellers have stock products that are great to look at. So you do not have to worry about quality. The colour spectrum pretty much covers any shade that you may have in mind. For instance, you can choose a lime green or a bottle green shade for your lanyard. When looking for delivery of Lanyards Overnight it would be a good idea for you to contact the seller and get a definite idea of when they can ship your order.
Fittings For Your Lanyards
When choosing Unprinted Lanyards for your use, you will also need to choose some standard fittings that go with your lanyards. Depending on your need, you can look for:
• Lobster clips.
• Carabiner clip.
• Metal or plastic clips.
• Whistles and so on.

Some of these fittings may have choices of colours so do look for the same. Badge holders and ID card holders are also some of the choices that you can seek when ordering your express lanyards.

You can also rest assured that these stock lanyards are made from high quality material. So just because you are in a hurry, you do not have to worry about poor product quality.
Request a free quote
No obligation, no strings attached. Delivered to your inbox in minutes.