Promoting safety in your workplace can involve more than just posting signs and making announcements. High viz lanyards make an excellent way to keep your staff visible in low light operations. They can also be combined with multiple or single safety fittings to be prevent staff being caught on machinery or equipment.
Print with your logo or safety message and give to staff or even clients as a promotional item.
Free artwork design

Let us design you a 100% free artwork of your
products prior to finalising your order.

Rush service available

We offer the fastest turnaround times with
optional super rush service on most products.

Low minimum order

We offer brilliant discounts on larger quantity
orders. Ask our team for more info.
Lanyard Fittings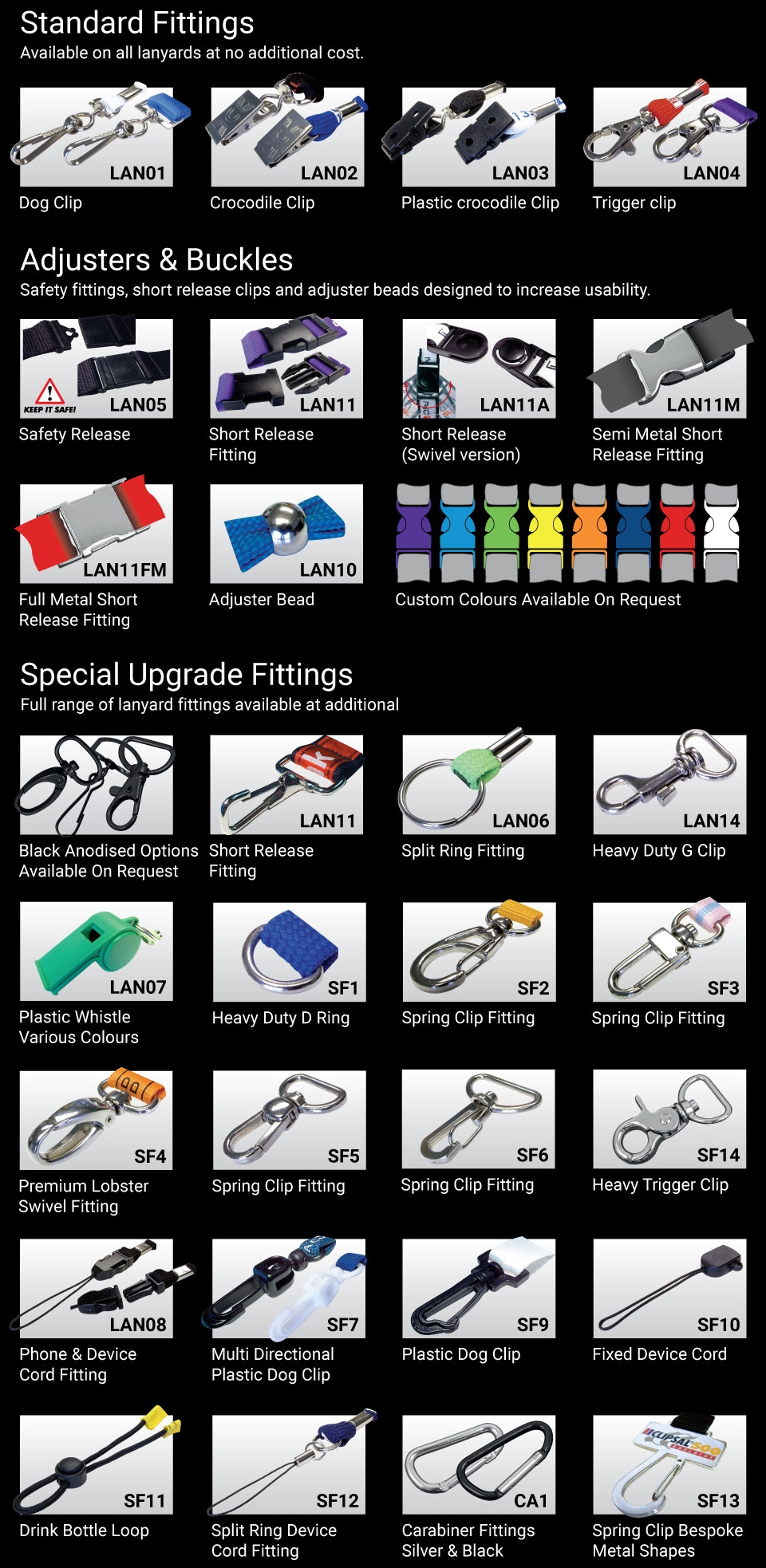 Colour Info
Product Details
Promoting safety in your workplace is essential because of many reasons. Some of the most important reasons are:
• It is a great way to boost employee morale and welfare.
• It would be essential as per various laws and rules.
• It is one of the best ways in which you can enhance your business reputation.
Investing in various kinds of measures to help look after the welfare of your employees can start with the use of safety lanyards.
Finding the right products
Investing in the right kind of workplace safety lanyards can be done easily if you choose to go shopping online. This will give you the option of looking through the websites of manufacturers of lanyards and examine aspects such as:

• Getting price quotes.
• Looking at delivery times.
• Getting an idea about how they will do the printing and even
• Free artwork and design services.
Choosing the right colours
It is extremely important for safety lanyards to be highly visible. This visibility can encompass bright colours and even reflective surfaces. One of the best choices when it comes to workplace lanyards is polyester.

Manufacturers of such lanyards can help industries and sectors such as:
• Manufacturing and construction.
• Emergency services
• Government bodies.
• Road or civil work and even
• Sporting activities that are conducted in the night.

An emergency worker, for instance, may be required to work in dark areas and it is extremely important that he wears a reflective and highly visible lanyard. This is exactly why you should choose workplace safety lanyards with visibility in mind. Manufacturers can also offer printed reflective strips that will enhance the visibility of such a lanyard.
Attachments
Safety lanyards may also be needed to carry certain essentials. For instance, it could be a whistle or even a small torchlight. This is why you should choose strong and failsafe attachments or fittings and clips. Lobster clips, safety release clips, heavy duty 'D' rings and carabiner clips are some of the options that you can explore. Of course, a lot would depend on the kind of object that needs to be carried at the end of the lanyard.

There is no denying the fact that workplace safety lanyards promote the safety of an individual and are also very convenient to carry quite an assortment of essential items. Choosing the right colours, lengths, widths and clips can go an extremely long way in making such a lanyard useful and reliable.
Request a free quote
No obligation, no strings attached. Delivered to your inbox in minutes.