Cara Strap Lanyards
More Views
Every individual carries a few precious items on an everyday basis. Most of the times, these items have to be readily accessible as well. For instance, an individual will feel the need to carry.
• A smart phone.
• Keys.
• Glasses.
• Gear and tools of various kinds and so on.
Give people a custom branded product with their details along the material length. Then they will be carrying your brand everywhere!
Free artwork design

Let us design you a 100% free artwork of your
products prior to finalising your order.

Rush service available

We offer the fastest turnaround times with
optional super rush service on most products.

Low minimum order

We offer brilliant discounts on larger quantity
orders. Ask our team for more info.
Lanyard Fittings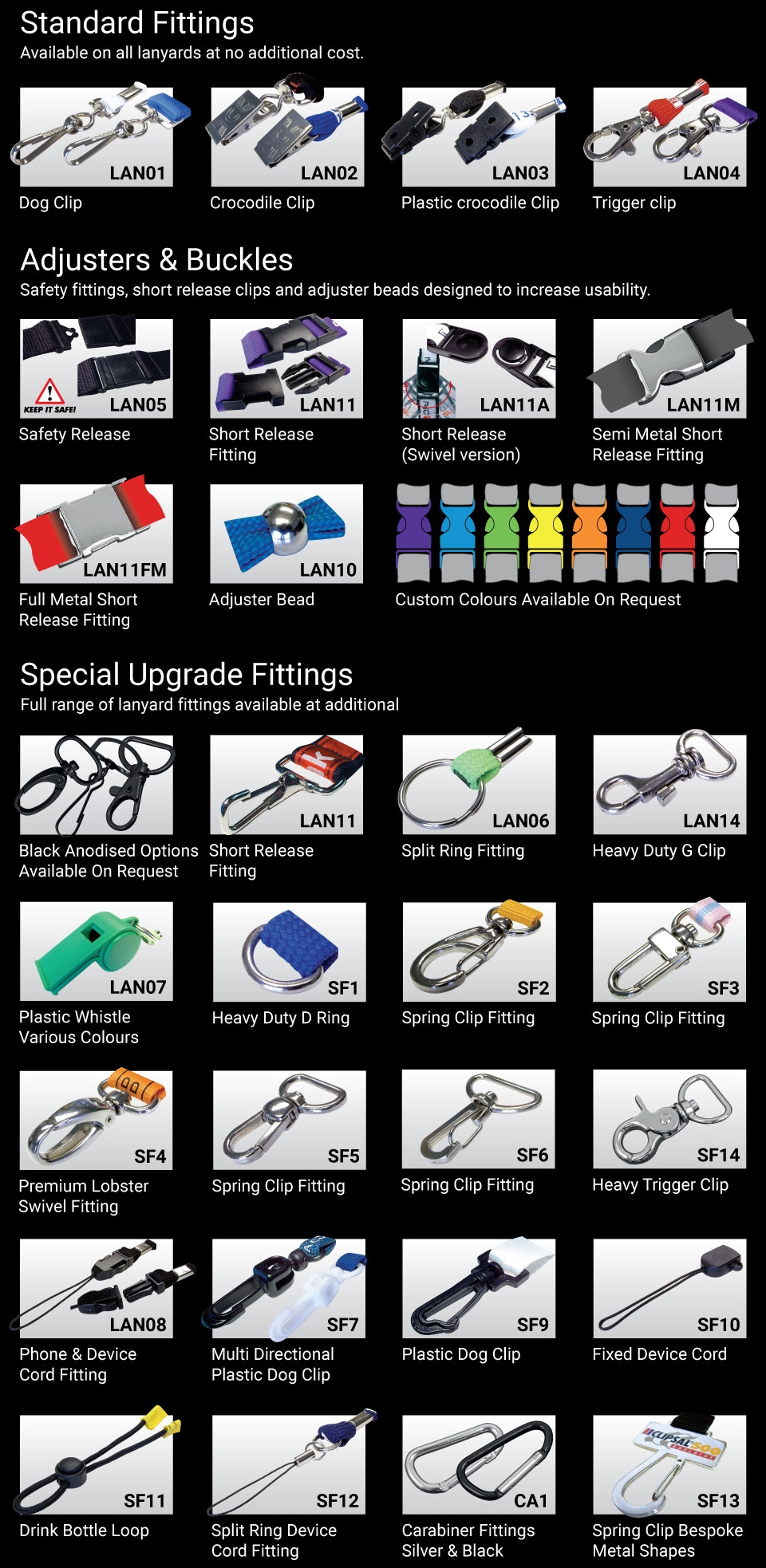 Colour Info
Product Details
Choose one of these stock material colours. Available and ready to be printed at no extra cost.

Or for an additional $40 have your lanyards dyed to any colour from our pantone chart of over 800 colours.
Lanyards now come with a range of different fittings in addition to the standard range of fittings.
Take keys for instance. All of us have multiple keys for the home, our vehicle and so on. All these keys have to be maintained on a single key ring for convenience and the same time the keyring has to be kept extremely safely on one's person. This is where Carabina Strap Keyrings make a lot of sense.
For a business owner
It is not just an individual who benefits from using a carabiner strap for keys. A business organisation can also use opportunity to come up with cara strap lanyards for business promotion. As a promotional item, nothing comes close to the convenience of a carabiner strap keyring because almost every individual will find some use for the same.
Strength and durability
Carabina Strap Keyrings also make an ideal gift in terms of promotional item because it is made from extremely strong and durable nylon. Furthermore, you can rest assured that this strap will not give way because well-established manufacturers and sellers of these items will reinforce the stitching on each strap so that it can take a certain weight comfortably.
The 'beauty factor'
Putting a bit of thought into the following aspects will allow you to come up with keyrings that look extremely good as well:
• The right kind of colours and colour combinations.
• Crisp printing of your business organisation's name or brand.
• The right kind of fittings that can be attached to the strap.
• Choosing the colours of the fittings as well.

Everybody needs Carabina Strap Keyrings and it therefore makes a lot of sense to use this space to promote your business. The light weight of these keyrings and straps also makes it convenient for people to carry them around everywhere they go.
Customisation
It would be a good idea for you to visit the website of manufacturers of Carabina Strap Keyrings so that you get an idea of how the product will look when it has been printed and delivered to your doorstep. Manufacturers will also be able to make these straps to virtually any specification that you may have in terms of colour and size and clips or fittings.
Request a free quote
No obligation, no strings attached. Delivered to your inbox in minutes.