150 g/m2 (141 g/m2 in White) – 100% Cotton Preshrunk Jersey Knit

Deluxe 30's Softstyle yarn

Rolled forward shoulders for a better fit

Seamless double needle 1.90cm collar

Taped neck and shoulders

Seamless double-needle sleeves and bottom hem

Quarter-turned to eliminate centre crease
Free artwork design

Let us design you a 100% free artwork of your
products prior to finalising your order.

Rush service available

We offer the fastest turnaround times with
optional super rush service on most products.

Low minimum order

We offer brilliant discounts on larger quantity
orders. Ask our team for more info.
Product Details
Mens Sizes (broad guide only please contact us for exact garment details)
| | | | | | | | |
| --- | --- | --- | --- | --- | --- | --- | --- |
| T10012 - MENS | S | M | L | XL | 2XL | 3XL | 5XL |
| HALF CHEST (CM) | 54 | 56 | 58 | 62 | 66 | 71 | 79 |
| HALF CHEST (IN) | 21.5 | 22 | 23 | 24.5 | 26 | 28 | 31 |
Shirt colours available

Branding options available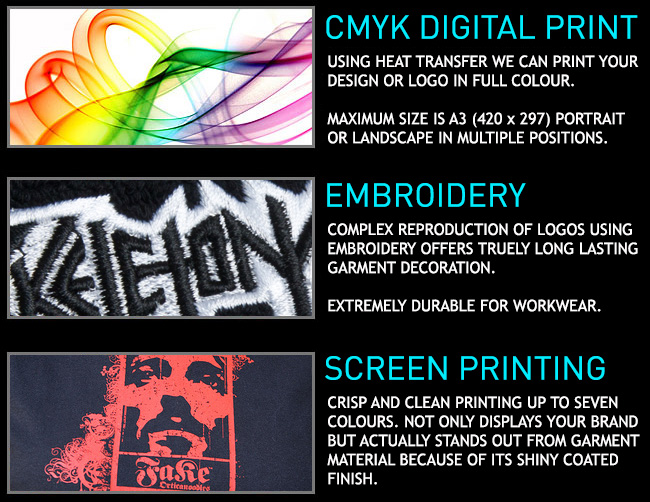 Further information
Since their creation in 1920, T-shirts have evolved into a two-billion dollar market. T-shirts are the most durable, versatile garments with mass appeal that can be worn on any occasion these days. T-shirts are available in a variety of colours, patterns, and material.
One of the most prime factor in selection of t-shirt is its softness. The majority of T-shirts are made of 100% cotton, polyester, or a cotton/polyester blend. Environmentally conscious clients can opt for an organically grown cotton and natural dyes to keep it soft and durable. T-shirts are also popular garments on which to display one's interests, tastes, and affiliations using customised screen prints. Hence T-shirts are also the most inexpensive promotional vehicles for conferences and special events.

Choose you t-shirt well!
Most of the operations in manufacturing clothing are regulated by guidelines. There are standards that apply specifically to the T-shirt industry, which include proper sizing and fit, appropriate needles and seams, types of stitches, and the number of stitches per inch. Stitches must be loose enough to allow the garment to stretch without breaking the seam. T-shirts must also be inspected for proper application of neck-lines, which should rest flat against the body. The neckline should also recover properly after being slightly stretched. When determining what shirt is right, material is the first essential element to consider. Cotton is, by far, the most common material used to make garments, and manufacturers use a variety of terms to let you know what type of cotton they are using. Manufacturers also use synthetic fibers including Polyester, Rayon and Spandex in garments as well. Sometimes these fibers will be blended with the natural cotton to yield a different type of shirt.

Marketing power of T-shirt:
When it comes to marketing, a lot of entrepreneurs focus only on hitting a worthwhile home run. If you haven't got a T-shirt, or jacket with your brand's logo, you're missing out on a powerful and affordable marketing opportunity. This usually ends up in a lot of expensive, often ineffective, marketing efforts such as TV commercials and magazine ads. In today's ad-choked media environment, sometimes simpler, more direct marketing efforts yield the best results. At the end of the day, you and your employees have got to wear clothes, so why not put them to work marketing your product or service? It's an easy win for your company, and in some instances, such as at networking events and conferences, corporate clothing will help you stand out in a sea of suits. Non-traditional, eye-catching — with or without the imprint — that can be said of many of today's innovative T-shirts in the promotional marketplace. Add the right imprint, and your clients surely will be pleasantly surprised as they realize they really didn't know the true variety and power of the T-shirt after all. The point is simple, every opportunity is a marketing opportunity if you're paying attention and thinking outside the box. And some of the best marketing opportunities are cheap, easy, and fun. So, start dressing in your brand today!
Request a free quote
No obligation, no strings attached. Delivered to your inbox in minutes.