150 x 75cm
Decoration methods
Embroidery, Full colour transfer, Screen Print.
Colours in stock
White, Royal Blue, Black, Cyan, Pink, Olive, Red, Navy.
Decoration Area
Embroidery 250 x 250mm
Full Colour 280 x 90mm
Screen print 280 x 90mm
Print/Embroid colours available

Print options available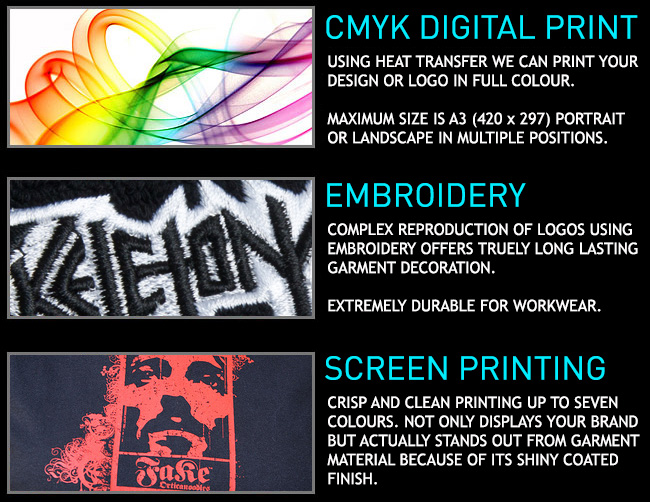 Further info
Happiness to many of us is a long bubble bath with scented candles and soothing music in the background combined with a glass of wine as the bubbles wink at you. The long soaking bath relaxes your muscles enabling you to de-stress after a tiresome day. As soon as you get out of the bath you look for a towel to rub yourself and wrap it around you to keep your body warm. If the towel is soft and comfy then many even forget to remove it and just collapse on the bed. Towels are an integral part of our daily lives and we need to change them from time to time. A pack of six is ideal for a family of four for a year. Spas and gyms also need to keep towels in their wash rooms for users. Many offices have shower cubicles so that their staffs who travel long distance can take a quick shower. It is in such offices that you need to store Towels.
Good quality towels
A towel is a necessity and not a luxury. Wherever you go you'll need a towel to wipe your face and hands. Even after a quick shower you need to use a towel to rub yourself. Cotton is the ideal fabric for a towel. The right towel size is 150cmx75 cm. It is enough for a woman to cover herself and come out of bath. 450GSM Ribbed Towels are exactly that and much more. The seams are neatly stitched and they're smart and stylish towels that can be used as promotional material for your business.
Custom made with embroidered logos
These towels can be embroidered with your company logo or design so that it can act like an advertising tool. The embroidery is long lasting and offers decoration to the garment. The threads used are of high quality and don't lose colour. They remain bright and attractive for a long time. The artwork is aesthetic and shown to you before it is replicated. You can ask for unlimited revisions. The towels are machine washable and don't lose colour. The decoration colours used are screen printed and are available in several colours of white, black, blue, pink, olive, red and navy.
Due to the shiny finish the logo embossed stands out from the fabric and is clearly visible. The towel is extremely durable and lasts long. Using heat transfer you can print your logo in full colour.
Ideal for hotels
These towels are ideal for hotels, dormitories, college hostels and bed and breakfasts.
Minimum order of 25 pieces.
The towels along with your logo embossed can be shipped to you within a week. If it is a rush order then 5 days is the delivery time. With festival season round the corner gifting a towel along with other household articles in a hamper will be an ideal gift. Since theme gifts are in vogue a bath set hamper can contain a fluffy and attractive 450 gsm ribbed towel along with shampoos and conditioners, handmade soaps and body creams.